Triathlon racing is brutal. You sweat and suffer in the heat and humidity across miles of sinuous, undulating, and scorching road. Your muscles bellow in anguish as you push them harder than ever before. Your lungs scream as they furiously burn, stoking the fire of perseverance within you. Triathlon racing is beautiful. You fly past your competitors in a blur of speed, never needing to look back to know that they'll never catch you. You cross the finish line, taking victory and smashing your personal best in front of a frothing crowd of racing fanatics. You revel in your exhaustion, delirious in the euphoria of your sacrifice, and the pride in going faster than you ever dreamed possible. If you want to exceed your goals in the gloriously unique crucible of triathlon, it's not enough to be fast. You've got to be crazy fast.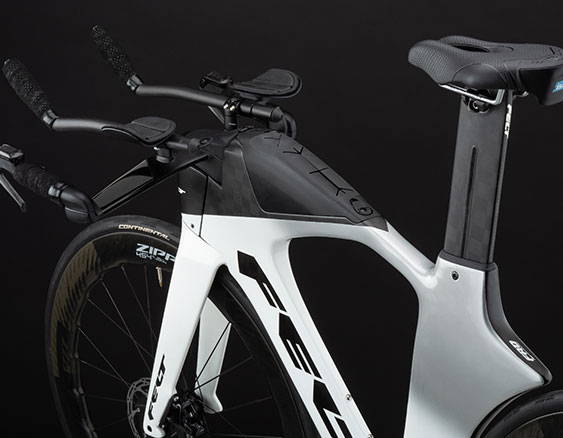 FEEL BETTER. RIDE FASTER.
Our patented InternaLoc 2.0 seatpost clamping system provides unrivaled security, adjustability, and comfort. It's why its various iterations have propelled myriad triathletes and cyclists to victories over the years. The IA 2.0 features the most advanced version of InternaLoc we've ever designed. Its dual-bolt clamping mechanism allows for super-fine adjustments to your riding position while preventing slippage when riding. It also features an all-new, co-molded sleeve that securely enfolds the seatpost—which features more finely tuned carbon layup than in generations past—greatly mitigating high-frequency vibrations for the smoothest ride quality of any triathlon bike we've ever created.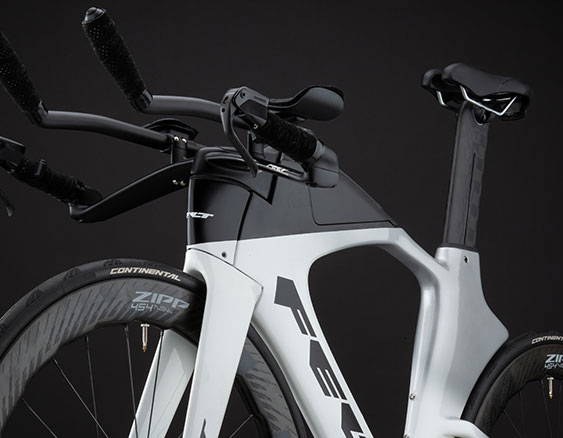 AERODYNAMICALLY OPTIMIZED
To ride faster, you have to get more aerodynamic. But that's easier said than done. You're training and racing in a golden age of bicycle development and athletic performance, where the gains over your competitors are marginal at best, and the difference between winning and losing is often measured in seconds. So you train not only hard but smart, obsessing over the details of how your body performs in every aspect of the race: in the water, on the bike, on the run, and even in transition. Our primary objective is to free you from the restraints that hinder speed, to make you as fast as possible, because you demand that same level of commitment to going crazy fast from your equipment as you do from your body. The original IA race bike ushered in a whole new paradigm of aerodynamic efficiency and airfoil design—and the IA 2.0 has done so again. Its revolutionary design and striking silhouette represent the pinnacle of form following function. Bottom line: The IA 2.0 is our fastest bike ever—4% faster than its predecessor.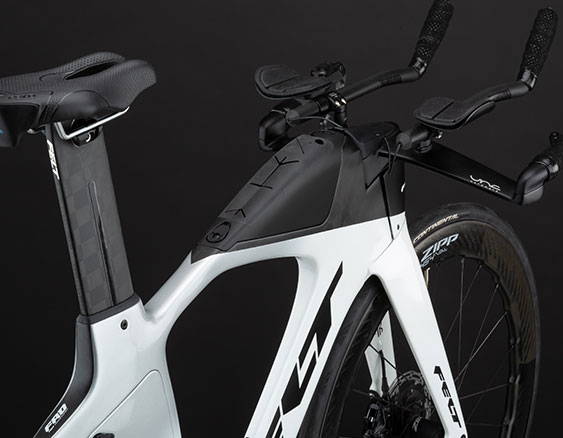 The previous generation IA featured the revolutionary CALpac top tube-mounted storage system, and we've reimagined it for the IA 2.0. Now sporting 0.2 liters (6.75 ounces) of storage volume, it's the perfect spot for a full day's assortment of energy gels, nutrition bars, and other small items. Everything about the new system is built for speed, including a refined version of the easy-access slot along the top that allows you to quickly grab hold of the fuel you need in the moment, while also securing your remaining items and refuse. Flip-up connector bolts hold the top cover in place, making it a speedy process to fill the storage compartment pre-race.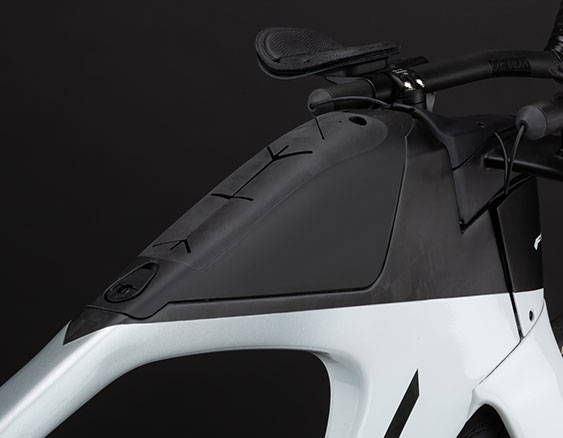 Nutrition is key to your race-day performance, but it's nothing without proper hydration. That's why the IA 2.0 includes the most versatile assortment of hydration solutions we've ever created. The all-new THIRSTpac hydration module sits below the CALpac storage compartment along the top tube, and can hold up to 0.9 liters (30 ounces) of water or your favorite race-day beverage. It also includes a quick-fill port so you can top it off instantly at an aid station, and its unique cover design prevents any spilling or sloshing. Best of all, the THIRSTpac was designed in conjunction with the IA 2.0's aerodynamic paradigm, which means that it's perfectly integrated into the frame for all of the hydration function without any compromise to speed. Two tried-and true water bottle mounts are located inside the IA 2.0's front triangle, giving you additional hydration storage options. And the IA 2.0's Dagger Direct front-end can accommodate most aftermarket hydration systems, giving you the freedom to dial in your preferred setup.
Racing is all about perseverance—especially when unexpected challenges arise. For those moments when a flat tire or a mechanical occurs, you need to be able to quickly address it and get back in the action. It's in those moments when the IA 2.0 shines, thanks to its uniquely designed ITSpac ("Inside The Seat tube"—clever, eh?) storage compartment. This fully integrated storage area is accessed via two flip-up connector bolts just like the top tube-mounted CALpac storage system, allowing for immediate access to a tool kit, spare inner tube, tires levers, a CO2 cartridge, and anything else you need to handle quick repairs. The IA 2.0 comes with a premium soft bag, custom-made for the unique shape of the IA 2.0 frame by the bicycle accessory maestros at Silca. This ensures that all of your items are protected, held securely in place, and always right at hand.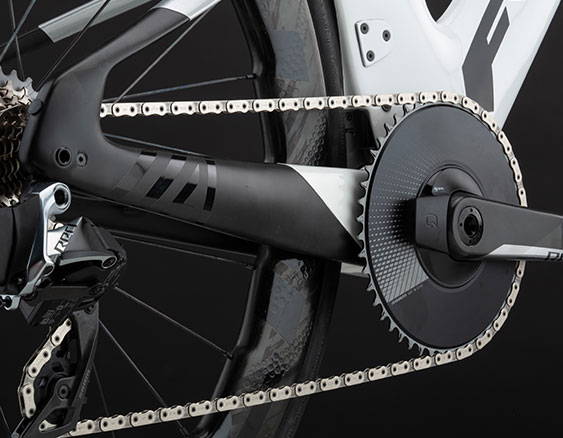 With the most advanced integration of any triathlon bike we've ever created, the IA 2.0 can be outfitted with any drivetrain around. Electronic or mechanical, in 1x or 2x configurations, it's all good. The IA 2.0's unique front-end includes an integrated cover to securely conceal either a SRAM BlipBox control unit or a Shimano electronic junction. If you prefer a 2x drivetrain, then the IA 2.0 can accept up to a 42-tooth inner ring. If you're a 1x fan, you can fit up to a 52-tooth chainring, and opt for a sleek and streamlined front derailleur plate to help maximize the most marginal of gains by forgoing a superfluous front derailleur hanger.